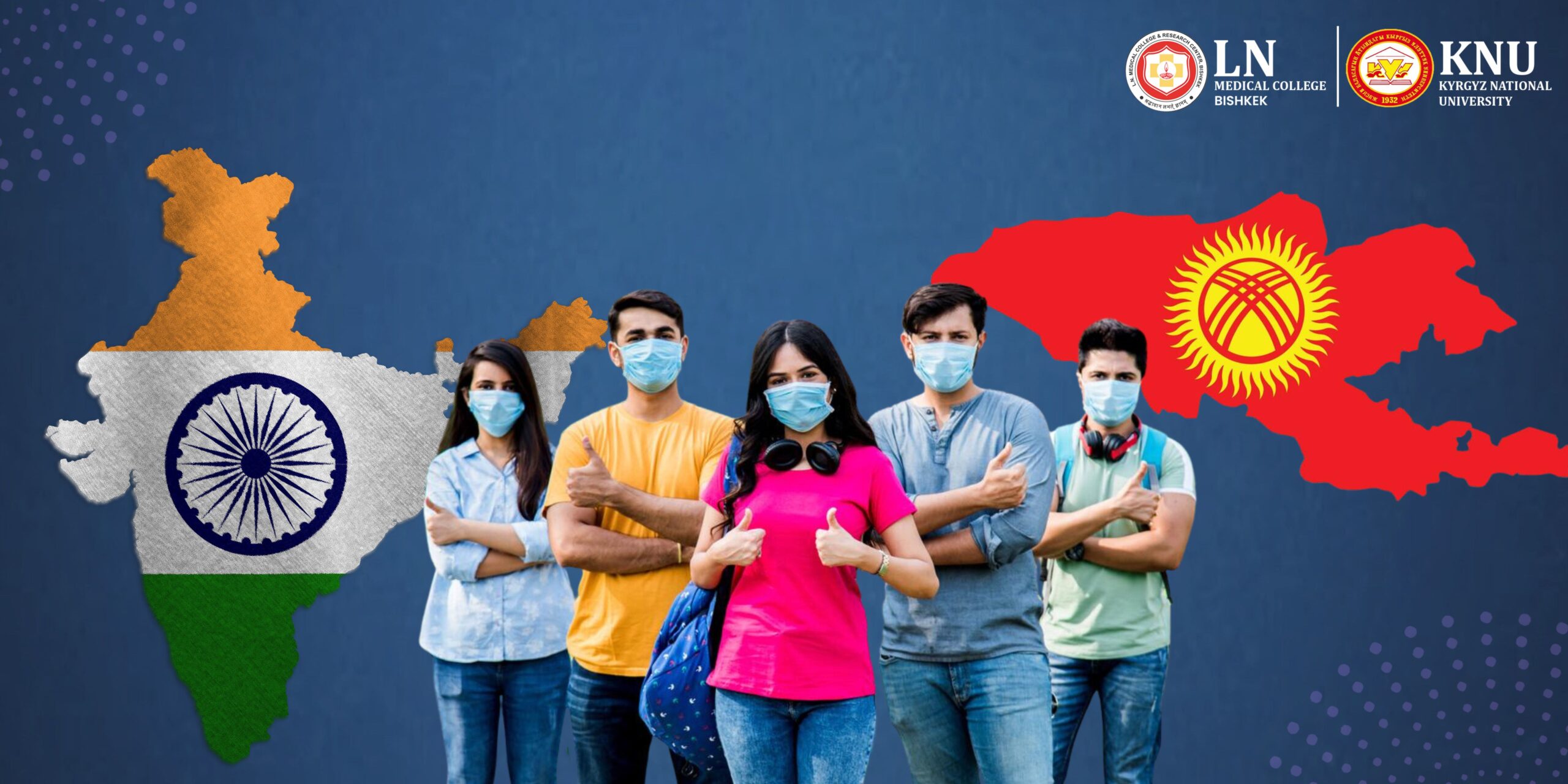 Nestled in the heart of Central Asia, this enchanting land of rugged mountains and breathtaking landscapes, Kyrgyzstan is emerging as a top choice for Indian students seeking quality medical education abroad. Pursuing MBBS in Kyrgyzstan is gradually becoming the new trend among the Indian students due to its affordable tuition fees, internationally recognized degrees, multicultural environment, and exceptional educational standards. MBBS in Kyrgyzstan has become an enticing prospect for those looking to unlock new horizons in their medical journey.
Deciding where to pursue medical education is a crucial and often challenging decision for students and their families. They seek a destination that not only offers excellent education but also provides an enriching experience. Kyrgyzstan checks all the boxes, making it a natural choice for Indian MBBS aspirants.




Why Indian Students are Opting to Pursue MBBS in Kyrgyzstan?


In the fiercely competitive landscape of medical education in India, aspiring students face a daunting challenge. While the National Eligibility cum Entrance Test (NEET) UG serves as a gateway to medical colleges, the availability of government MBBS seats falls far short of the overwhelming demand. To make matters more disheartening, private medical colleges come with exorbitant price tags, making them unattainable for many students and their families. Faced with limited options and driven by their unwavering determination, Indian students are turning their gaze towards opportunities beyond their borders. This is where the allure of studying MBBS in Kyrgyzstan shines brightly. The affordable tuition fees, coupled with internationally recognized degrees, present an attractive proposition for students seeking a quality medical education. Kyrgyzstan provides a viable alternative for Indian students to pursue their dreams of becoming doctors, offering a pathway that is both economically feasible and academically rewarding.



Overview : MBBS in Kyrgyzstan


When considering pursuing an MBBS degree, Kyrgyzstan emerges as an enticing destination for students from around the world, including a significant number of Indian students. One of the appealing aspects of studying MBBS in Kyrgyzstan is the amiable culture that embraces diversity and warmly welcomes international students. The multicultural environment fosters a sense of belonging and creates a conducive atmosphere for learning.
In terms of duration, MBBS programs in Kyrgyzstan typically span six years, including a year of internship. The comprehensive curriculum focuses on providing students with a strong foundation in medical sciences and practical training, ensuring they are well-prepared to enter the medical profession.
One of the major advantages of studying in Kyrgyzstan is the cost of living, which is considerably affordable compared to many other countries. From accommodation to daily expenses, students can comfortably manage their finances without compromising on their quality of life.
The weather in Kyrgyzstan is another notable aspect that adds to its allure. With a continental climate, students experience warm summers and cold winters, offering a unique blend of seasons that adds charm to their educational journey.
Furthermore, Kyrgyzstan has become a preferred destination for Indian students pursuing MBBS due to the presence of a vibrant community of Indian students already studying there. This creates a support system, fostering a sense of camaraderie and familiarity for those embarking on their educational journey far from home.
Overall, MBBS in Kyrgyzstan presents a remarkable opportunity for Indian students. The amiable culture, reasonable cost of living, favorable weather, and the presence of fellow Indian students make it an attractive choice for those seeking a quality medical education abroad. Kyrgyzstan stands ready to welcome aspiring doctors with open arms, providing an enriching experience that combines academic excellence with an unforgettable journey of personal growth.





| | |
| --- | --- |
| Aspects | Overview |
| Amiable Culture | Kyrgyzstan embraces diversity and provides a welcoming atmosphere for international students. |
| Duration | MBBS programs in Kyrgyzstan typically span 5+1 years, including a year of internship. |
| Cost of Living | Kyrgyzstan offers an affordable cost of living compared to many other countries. Average monthly cost of living for a student is around 10,000 to 15,000 KGS (INR 8,800 to 13,200) |
| Weather | Kyrgyzstan experiences warm summers and cold winters, providing a diverse climate. |
| Indian Students | A vibrant community of Indian students already studying in Kyrgyzstan creates a support system. |
| Currency | Official currency: Kyrgyzstani Som (KGS) |
| Conversion | 1 INR ≈ 0.88 KGS (as of current exchange rates) |
Summary of Overview: MBBS in Kyrgyzstan


Studying MBBS in Kyrgyzstan for Indian Students:


MBBS in Kyrgyzstan for Indian students is quite a lucrative option especially when LNMC Bishkek offers the Indianised medical education abroad. One of the key advantages is the affordable tuition fees, making it an attractive choice for students and their families who seek quality education without the burden of exorbitant expenses. Additionally, It also owns reputation of being best MCI approved medical college in Kyrgyzstan, as it offers MBBS course approved by the Medical Council of India (MCI), ensuring that Indian students are eligible to pursue their medical career back home.
Another noteworthy aspect is the national & internationally accreditation of medical universities in Kyrgyzstan, medical colleges like LNMC Bishkek is world renowned for its educational excellence. Our institution adhere to global standards of education, providing students with a comprehensive and recognized medical degree. Coupled with world-class infrastructure and modern facilities, these universities create an optimal learning environment for students to acquire the knowledge and skills necessary for their medical profession.
Expert faculties further enhance the educational experience in Kyrgyzstan. Renowned professors and experienced medical practitioners bring their expertise to the classroom, nurturing the students' understanding of medical sciences. Their guidance and mentorship ensure that students receive a high-quality education, equipping them with the competencies required to excel in their future medical careers.
Studying MBBS in Kyrgyzstan also offers Indian students the opportunity for global exposure. The multicultural environment, with a diverse student community from various countries, fosters an atmosphere of cultural exchange and collaboration. This exposure broadens students' horizons, enhances their cross-cultural understanding, and prepares them to work in a global healthcare setting.



LN Medical College, Bishkek (Kyrgyzstan) is often regarded as the best MBBS college in the Kyrgystan by international students, especially the Indian student community. Below are the reasons of its popularity among Indian students to pursue MBBS ib Kyrgyzstan:


75% less tuition fee than Indian private Medical colleges
Offers MCI approved curriculum
It is a Subsidiary branch of L N Medical College, India, thus offers same education like its Indore and bhopal campus
It has Indian faculties along with expert Global medical experts in campus
Clinical Rotation Program with renowned Indian hospitals
Fully FMGL 2023 Compliant
Offers NExT Preparation Classes for Indian students
Complete education in english as uniligual medium of instructions.
Offers Comfortable hostels and Indian food in the mess
Offers 3D and virtual reality integrated medical curriculum.


LN Medical College, Bishkek, boasts unique advantages such as clinical rotation programs with renowned Indian hospitals, an English medium of instruction, comfortable hostels, and a commitment to incorporating innovative teaching methods. With its outstanding offerings, LN Medical College, Bishkek, truly stands out as the best MBBS college in Kyrgyzstan for Indian students.