Best MCI Approved Medical College in Kyrgyzstan, LNMC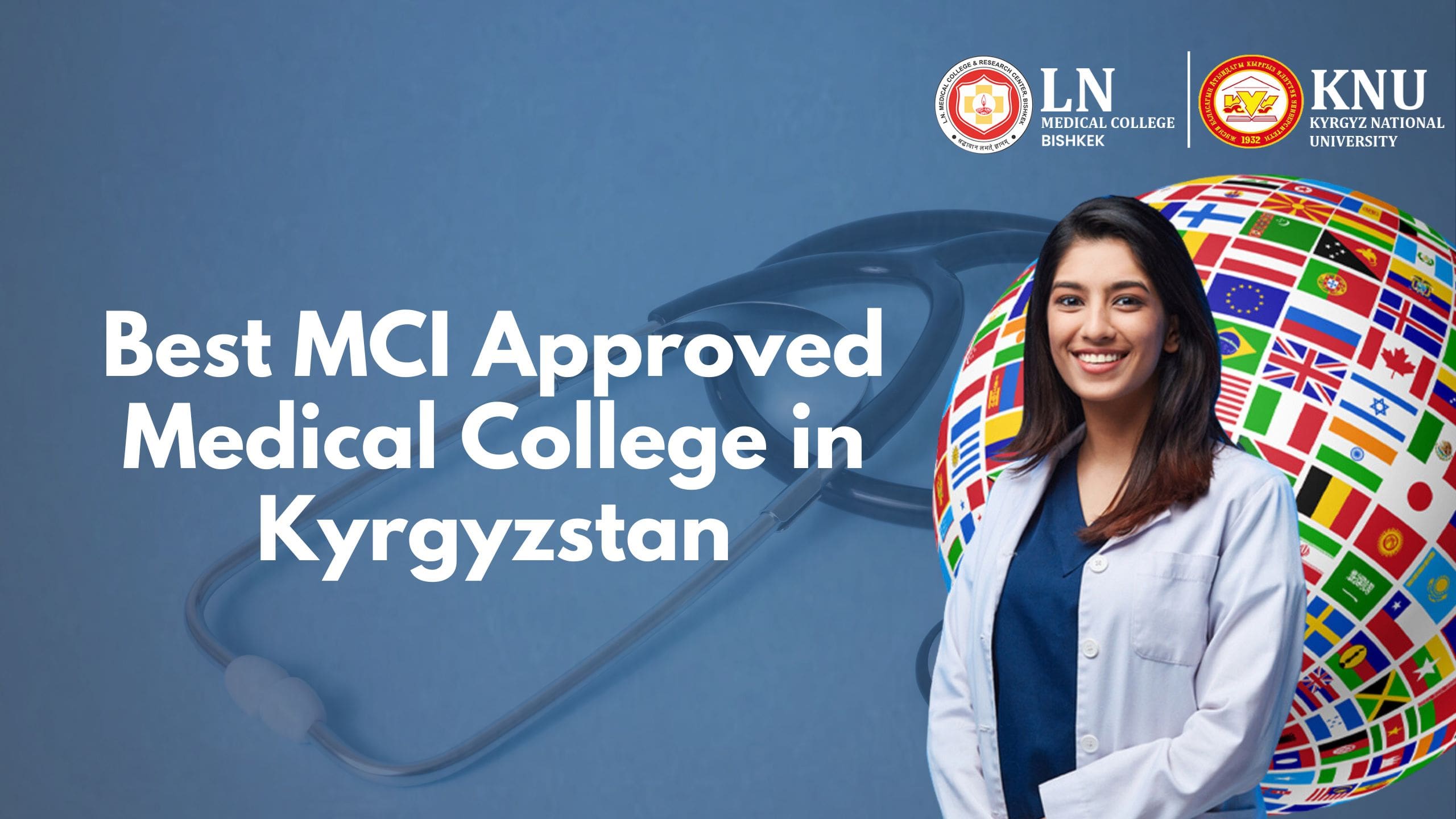 Medical education is a crucial stepping stone for aspiring doctors, as it shapes their knowledge, skills, and future careers. Choosing the right college is essential for a strong foundation in medicine. Among the many options available, We take pride that L N Medical College (LNMC) in Kyrgyzstan stands out as one of the best MCI (Medical Council of India) approved medical colleges. In this article, we will explore why LNMC is the preferred choice for Indian medical aspirants and how it provides an excellent environment for learning and growth. Following are the reasons why LNMC is considered as the best MCI approved medical college in Kyrgyzstan
Location and Infrastructure
One of the primary reasons why LNMC is highly regarded is its ideal location in Kyrgyzstan. Kyrgyzstan offers a conducive environment for international students, with its breathtaking landscapes and rich cultural heritage. LNMC's campus is well-connected and easily accessible, providing a safe and secure environment for all students.
The college boasts state-of-the-art infrastructure, equipped with modern amenities and advanced medical facilities. Lecture halls are equipped with the latest audio-visual aids, creating an interactive learning experience. The college also has well-equipped laboratories, libraries, and research centers, encouraging students to explore and expand their knowledge. Indian students often opt to study in LNMC because of its global standard as well as its popularity of being one of the best MCI approved medical college in Kyrgyzstan.
Academic Excellence
At LNMC, academic excellence is a top priority. The college follows a well-structured curriculum that is on par with global medical education standards. Its curriculum is also designed to be in line with the Indian medical education system which makes it MCI approved medical college in Kyrgyzstan. The faculty comprises highly qualified and experienced professors who are passionate about teaching. They provide personalized attention and mentorship to ensure that each student reaches their full potential.
LNMC emphasizes research and practical learning, understanding the importance of hands-on experience in the medical field. Students actively participate in research projects and clinical rotations, gaining valuable insights and skills that go beyond textbooks.
MCI Recognized
One of the key factors that set LNMC apart is its MCI recognition. The Medical Council of India's recognition is a testament to the college's quality and adherence to high educational standards. For Indian medical aspirants, studying in an MCI approved college in Kyrgyzstan, is of utmost importance, as it makes them eligible to practice in India after completing their studies abroad.
The MCI approval also ensures that LNMC follows the latest medical guidelines and offers education that is recognized and respected worldwide. Indian students studying at LNMC can rest assured that their medical education will be on par with India's best medical institutions.
Multicultural Environment
LNMC takes pride in its diverse student community, which includes students from various countries and cultural backgrounds. This multicultural environment creates a dynamic and enriching atmosphere, fostering a sense of global camaraderie among students.
Studying with peers from different cultural backgrounds not only enhances the social experience but also broadens students' perspectives, preparing them to work in a global healthcare setting. It also provides an opportunity for cultural exchange and the sharing of unique medical practices from around the world. Its multicultural environment along with its status of MCI approved medical college in Kyrgyzstan makes it a top choice for Indian students
Student Support Services
LNMC is committed to providing comprehensive support services to its students throughout their academic journey. The college offers dedicated academic advisors who guide and assist students in choosing the right specialization and planning their careers.
Counseling and mentorship programs are also available to help students cope with the challenges of medical education and maintain their physical and mental well-being. Additionally, LNMC offers support and guidance to Indian students preparing for licensing exams required for medical practice in India. Its holistic support service compliments its status of MCI approved medical college in Kyrgyzstan and makes it number 1 choice of indian aspirants.
Clinical Rotations and Internship
LNMC understands the importance of practical experience in medical education. Thus, the college collaborates with reputed hospitals and healthcare institutions, in India, to provide students with hands-on clinical training as per the Indian medical practices.
During their clinical rotations and internships, students get the opportunity to work with experienced healthcare professionals, gaining exposure to various medical specializations. This exposure plays a vital role in shaping their career choices and prepares them to face real-life medical challenges confidently. The clinical rotation program justifies its status of being MCI approved medical college in Kyrgyzstan.
Extracurricular Activities
While academics are essential, LNMC recognizes the significance of a well-rounded education. The college encourages students to participate in extracurricular activities, such as sports, clubs, and social events.
These activities not only help students relax and unwind but also foster teamwork, leadership, and communication skills. LNMC believes in nurturing the overall development of its students, creating future doctors who are not only skilled but also well-rounded individuals.
Safety and Security
Safety is a top priority at LNMC. The college maintains a safe and secure campus, with measures in place to ensure the well-being of students. Additionally, LNMC provides secure hostels for international students while living in Kyrgyzstan.
Kyrgyzstan is known for its hospitality and friendly environment for international students. Students can enjoy their learning experience while feeling safe and comfortable in their new surroundings.
Accreditation and Affiliations
LNMC holds essential accreditations and affiliations, ensuring that the college maintains high educational standards. These recognitions validate the quality of education offered at LNMC and instill confidence in prospective students and their families. The college's affiliations with renowned medical institutions worldwide also provide opportunities for international collaborations and exchange programs, enriching the educational experience of students.
LNMC's MCI approval and affordable fee structure make it an attractive choice for Indian students seeking quality medical education abroad. Aspiring medical students researching their options will find LNMC as a leading contender that fulfills their aspirations.
In conclusion, LNMC stands tall as the best MCI approved medical college in Kyrgyzstan, offering a world-class medical education that equips students for a successful career in medicine. From its exceptional academic excellence and advanced infrastructure to its multicultural environment and student support services, LNMC provides an all-encompassing experience that nurtures both personal and professional growth.
For Indian medical aspirants seeking quality education and global exposure, LNMC emerges as the ideal choice. The college's MCI approval ensures that students are well-prepared to pursue a medical career in India or anywhere else in the world. By choosing LNMC, students embark on a transformative journey that shapes them into compassionate, skilled, and responsible medical professionals.
So, if you dream of becoming a proficient doctor and wish to explore the world while pursuing your passion for medicine, consider joining LNMC – a place where knowledge meets excellence, diversity, and endless opportunities.
FAQs (Frequently Asked Questions)
1. Is LNMC recognised by the Medical Council of India (MCI)?
Yes, LNMC is an MCI recognised medical college, ensuring that its medical education meets the high standards set by the Medical Council of India.
2. What is the eligibility criteria for Indian students to join LNMC?
Indian students must have completed their 10+2 education with science subjects (Physics, Chemistry, and Biology) and must qualify for the NEET.
3. How is the campus life at LNMC?
LNMC offers a vibrant campus life with a mix of academic, extracurricular, and social activities. Students have access to clubs, sports, and cultural events.
4. What are the career opportunities after completing medical education at LNMC?
Graduates from LNMC have excellent career prospects in both India and other countries. They can pursue further studies, work in hospitals, or establish their private practices.
5. Can I apply for scholarships at LNMC?
Yes, LNMC offers scholarships and financial aid to eligible students based on merit and need. The college aims to make medical education accessible to deserving students.





Read Our Latest Blogs

MBBS In Kyrgyzstan– A New Promising Option For Indian MBBS Aspirants
Link: https://lnmc.kg/blogs/mbbs-in-kyrgyzstan-a-new-promising-option-for-indian-mbbs-aspirants/
Best MBBS College in Kyrgyzstan For Indian Students
Link: https://lnmc.kg/blogs/best-mbbs-college-in-kyrgyzstan-for-indian-students/